Looking for Easter eggs isn't something that only children enjoy on a specific holiday. When consuming media (like watching anime), you're bound to find some "Easter eggs" purposely hidden by the creators only for the observant eyes of real fans to find. In this list, we're zeroing in on some of the best anime Easter eggs you've probably never noticed on your first watch.
Karma Is Playing a Game Inspired by One Piece
If you're looking for Easter eggs in anime, Assassination Classroom has plenty of them. At one point, Koro-sensei donned a Konoha headband, and at another moment, they copied Dragon Ball power-ups (as a joke, of course). But one of the eggs that many fans seem to never notice is when Luffy made a cameo appearance in the show through Karma's console.
Aside from the ones mentioned, there are a lot of other references to certain anime that can be seen in some Assassination Classroom episodes. They can certainly do that without problem because Assassination Classroom was published in the Weekly Shonen Jump, along with the other anime they referenced.
A Subtle Yu Yu Hakusho Reference in Hunter x Hunter
Togashi is a genius who made not just one but two incredibly popular shows, namely Yu Yu Hakusho and Hunter x Hunter. In this scene in Hunter x Hunter, which was made and aired after the other, you can see the two anime having a brief crossover. The girl in the photo is Neon Nostrade, a rather minor but important character in one arc, and hanging by his phone is Pu, the mascot of Yu Yu Hakusho.
Yuu Watched Angel Beats When He Was Depressed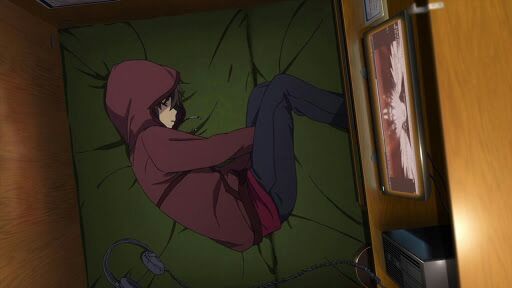 Charlotte, without a doubt, can be considered one of the most tearjerking anime to have been made. Yuu, it's main character, fell into depression after an unfortunate. During his lowest moments alone, he found comfort watching another anime, Angel Beats. In this scene, you can see him finally falling asleep while the other anime is playing on the TV in front of him
Both Charlotte and Angel Beats are incredibly sad shows, but the two anime have a deeper connection than that. The two of them were previously published by Key visual novel studios before getting animated.
Sailor Moon References Hunter x Hunter
In this popular scene from Sailor Moon, you can see quite a few well-known characters, namely Spongebob, Sonic the Hedgehog, and Rafael from Ninja Turtles. But aside from those famous American cartoons, another anime was actually referenced in this particular scene: Hunter x Hunter.
"Greed Island" is one of the major arcs in Hunter x Hunter. Takeuchi Naoko, who wrote Sailor Moon, is actually married to the mangaka of Hunter x Hunter.
Fire Force Pays Homage to Another Popular Series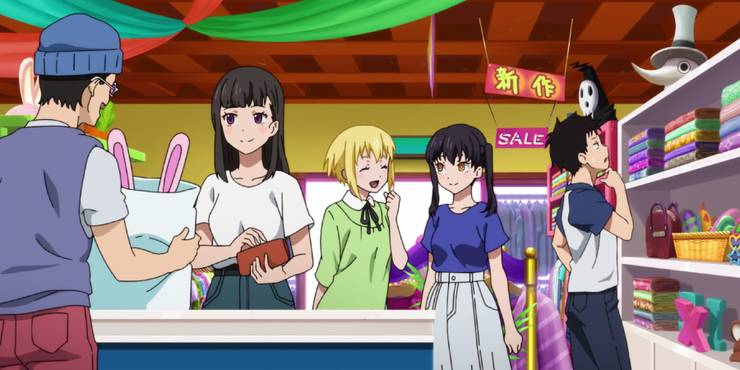 This one is very subtle, so it's easy to miss. But in this scene on the upper-right corner, you can see Lord Death and Excalibur's heads (or masks) being displayed in the store where Shinra and the gang are shopping from. Any Fire Force fan knows that the author of the manga, Ohkubo Atsushi, previously wrote another popular series: Soul Eater. Lord Death and Excalibur were both major characters there.
There are plenty of other shows that reference other anime. However, don't feel sad if you don't see these Easter eggs at all. Anime shows are meant to be watched and enjoyed, so try not to stress yourself hunting for these elusive treats! #